Introducing to you our rented home for the Orphans of Uganda Children Center in Bugiri, which is located in eastern part of Uganda in bugiri district, kampyange sub county in busolo village. We do thank everyone who has contributed to the payment of our house monthly payment in bugiri for the orphans of our organization to stay in and be sheltered in a good environment.
How many rooms does the orphanage have for 101 people?
The home has 12 finished rooms, on this five rooms are big, and they can accommodate around 10 children per room and the other 6 rooms can accommodate 7 to 8 children each. And one room among the twelve is used as a store for our food and also to keep children documents, the organization has a total population of 101 members, means 95 children and 6 members who are volunteers, with much love and joy.
The rent for the orphanage is paid until June
As the organization leaders/caretaker we do inform you all our donors that because of your support we have managed to secure a safety home for these children for a period of three months at about 200 euros per month (800,000 UGX) from April to June 2021 these 3 months are cleared.
And now we look forward for the continuous payment to be able to keep these children safely in one place, however there is a request of supporting our project of constructing a permanent home for the organization to overcome this issue of monthly payments.
The first step has been taken with the purchase of land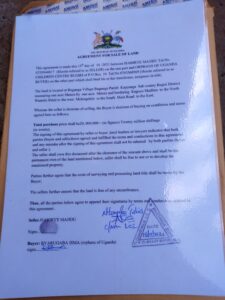 This will be possible because now our organization own one acre of land which was purchased for the organization by our donors from Germany and Turkey.
And this will help the organization to save more and invest in other projects like chicken, garden project and other, with even supporting our organization children back to their respective schools.
Help us to make the official entry in the land register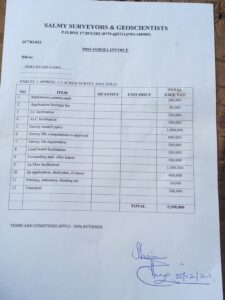 However, after buying the land our land need to be leased, and we own land certificate or land title on the land to be fully registered by the Uganda land board in the name of the organization, Orphans of Uganda Children Center.
At an amount of (5,590,000 UGX), let's join hands today to get involved in this great work of helping one another for a better tomorrow. Together if hands are joined we can make this place a better place for everyone by lending each other helping hand. Thanks for the continuously Support towards the help of these children, and we do call for more Support to get the place secured.